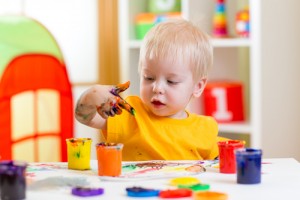 As the owner of a day nursery group in North Camp, Farnborough and Pirbright (Surrey and Hampshire), I would naturally love it if you choose one of our settings to send your baby or child. But if you do choose a Naturally Curious Childcare setting I would also hope that you feel happy and confident in your decision; therefore the 10 tips below are to help you decide whether we, or any other childcare provider, are right for you and your family.
Choosing to put your child in nursery is a tough decision, and finding the right place for them can leave you feeling panicky. Despite being able to access Ofsted reports, getting recommendations from friends and family and even visiting nurseries in person, many parents still find it almost impossible to be sure they are making the right decision.
Finding The Right Nursery For Your Child
Whether you're looking at a school based nursery, a private day care centre or a more laid back facility like a Sure Start centre, there are some basic expectations that should be adequately met by your childcare provider. Here are ten top tips for finding a great day nursery for your little one:
1. Talk to other parents
If you currently take your little one to playgroups or local baby groups, talk to the other mums and dads about nursery. Some may have older children or other relatives in nursery already, which can give you a great inside track on how things are day to day.
2. Ask to see their policies
Any day nursery should have clearly defined policies and procedures for everything from opening times to emergency situations. Check these out for reassurance your child will be safe there. Also look for illness policies, as some nurseries require children to have extensive time away from the facility following illness, which will inevitably impact your working life.
3. Check the set up
Your nursery should be clean, and should have age appropriate activities available for all the children they care for. Babies should have separate play areas from older toddlers, and there should be space to go outside and get fresh air too.
4. Ask about meals
If your child is going to be staying over a mealtime, check out what sort of food they will be served. If your little one suffers with an allergy, make sure they are confident on how to deal with this and how to keep them safe.
5. See how staff interact
Caregivers should regularly be seen on the floor playing, sitting with children on their lap and generally getting involved in their lives. Young children need tender, loving relationships with the adults in their lives, so make sure you're confident this is the kind of culture in your prospective nursery.
6. Ask about staff turnover
Children thrive on consistency, and regular changes of staff at their nursery can make them feel unsettled and insecure. Ask how long the current team have worked there for, and how often they get new staff in. A good nursery will have great staff retention rates.
7. Talk to caregivers
Have a relaxed chat with some of the key staff in your nursery, and see if they share similar views to you on issues like sleep, feeding, discipline and other elements of care. If you've been baby led weaning at home, you'll want to make sure this can continue in your nursery too.
8. Ask how they report back
Until you child can talk for themselves (and even once they start in many cases) getting information out of them about their day can be tough. Your nursery should have a process in place to report back to you regularly, preferably daily, about nappies, eating and drinking and what activities they have been involved with.
9. Speak to local feeder schools
If you already have a fair idea of which primary school your baby or toddler is likely to go to, speak to the school office about what nurseries generally feed into them. Moving up to 'big' school with a few friends and familiar faces will help make this transition that much easier: it may seem like a long way off, but school comes around very fast!
10. Trust your instinct
You'll almost certainly struggle to find a nursery that doesn't perform well on most of these criteria, and sometimes the only thing left to influence your decision is your own gut feeling. If you aren't comfortable with how you feel in a nursery, your child probably won't be either, so no matter how many Ofsted 'outstanding' reports they've got, don't bother.
Finding an amazing nursery can feel like a huge weight off your shoulders, particularly if you're being pressed to go back to work while your baby is still small. With a little consideration you'll be able to find an environment for your little one that will help them grow and develop into confident little people.
If you would like to come and visit one of our nursery settings and see whether we can provide the right solution for you, please get in touch. Contact details for each nursery are here.